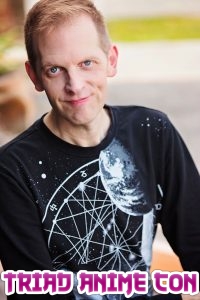 Chris Patton has been acting for the stage and in Voice Over for most of his life. Some of his best known work in Anime has been in Sword Art Online: Ordinal Scale as Eiji, Fullmetal Alchemist as Greed, Soul Eater as Asura, Ghost Stories as Hajime, Hamatora as Moral, Dragonball Z as Turles, Pokemon XY as Sanpei, Princess Tutu as Fakir, Full Metal Panic as Sousuke, and Diabolik Lovers as Ayato. Some of his most recent Anime credits have included Nagi (Alice) Arisuin in Chivarly of A Failed Knight, Asahi in Handa-kun, Embryo in Cross Ange, Abe no Seimi in Drifters, and Rentaro in Black Bullet.
In the world of video games, he can be heard as Kliff in Fire Emblem Echoes: Shadows of Valentia, Asahi in Akiba's Beat, and Turles in the Dragonball Z universe.
As a theatrical director, he has recently helmed productions of Green Day's American Idiot, Silence! the Musical, Saucy Jack and the Space Vixens, and Hedwig and the Angry Inch.