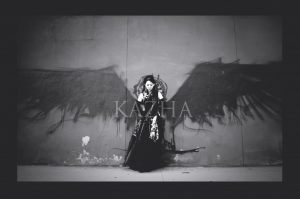 Kazha is a rock band formed by Japanese singer/songwriter Kazuha Oda.
Kazuha Oda was born in Japan, and spent her childhood in Brazil and U.S.A.. She started out as a solo
singer in Japan, and had worked with wide variety of performers including grammy winning pianist
Bob James. She had worked on more than 20 records/projects in Japan until now.
In September 2009, Kazha released their first EP "Breath Through Your Dreams" and toured Japan and
Korea. With the release of their first album "Overture" in 2010, they made their first North America
tour debuting at Asian Heritage Street Celebration in San Francisco, and went through 15,000 miles.
The band continues to tour around the world, including Europe, Mexico, as well as appearing at various
festivals and conventions in USA including Colorado Dragon Boat Festival, Phoenix Comicon, Katsu-
Con, Nan Desu Kan, Ohayocon, Sacanime, and Saboten Con.
They released their 2nd album "Evolution," and continue their musical adventure armed with their
strong belief in their music and aspirations of achieving their goal. Their music combines the softness
of a falling feather, and the heaviness of a hurricane.
Kazha represents a new future of the world music: a fusion of cultures and musical view points that
creates their sound.