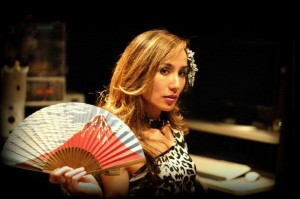 Japanese born and North Carolina resident, JUNKO FUJIYAMA, is a singer/song writer
and keyboardist. She has worked with several local bands (including Fujiyama
Roll, Wasabi & Tears and Scientific Superstar) as the lead singer and has
also been playing shows as a solo performer. She has performed at many
cultural events, benefit shows, music festivals and local clubs, such as
Japan Fest Atlanta, International Festival of Raleigh, Troika Music
Festival, Carrboro Music Festival, Taste of Durham Festival, Meredith
College, University of North Carolina, Duke University and various music
clubs (e.g. Cat's Cradle, Pour House, etc.)
JUNKO's original songs can be described as J-rock and J-pop blended
together. They are powerful, delicate, intricate and intriguing.
She also arranges and plays J-pop/rock and anime songs, adding some American
pop flavor and makes them sweeter!