Our Web Schedule is now live!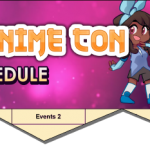 Click the links below to view the current schedule. Please note that this is the tentative schedule, and may change slightly up until shortly before the con.
Version 2 2/24/19
View Schedule in JPG Format
View Schedule in PDF format
Information regarding our schedule app will be coming soon!