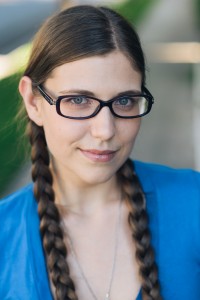 Laura Post is a Los Angeles based voice actor best known for her roles as Ahri in LEAGUE OF LEGENDS, Valentine in SKULLGIRLS, and Ragyo Kiryuin in KILL LA KILL.
Other anime roles include Rosalia in SWORD ART ONLINE, Ridget in GARGANTIA, Bosbos in REDLINE, Cindy Campbell in SQUID GIRL, Myers in MAGI (The Kingdom of Magic), Red's Mom and Marowak in POKEMON ORIGINS, Eri Watabe in LAGRANGE, and Sawako in GIOVANNI'S ISLAND.
Laura's video game work also includes, Laura Victoriano in THE EVIL WITHIN, Queen Azshara and Shademaster Kiryn in WORLD OF WARCRAFT, Olivia in BRAVELY DEFAULT, Aero in FIREFALL, Moenbryda in FINAL FANTASY XIV, Erna in NATURAL DOCTRINE, Nox and Bellona in SMITE, Ana in KILLING FLOOR 2, An-G in CALL OF DUTY: ADVANCED WARFARE – EXO ZOMBIES, and Arfoire & Magic in the HYPERDIMENSION NEPTUNIA franchise.
Laura has also provided voices for characters in SAILOR MOON, LIGHTNING RETURNS: FINAL FANTASY XIII, KNIGHTS OF SIDONIA, GUILD WARS 2, PLANETSIDE 2, HEARTHSTONE, HEROES OF NEWERTH, RAGNAROK ONLINE 2, and LORD OF THE RINGS ONLINE.
You can follow Laura on Twitter @LauraPostVoice.