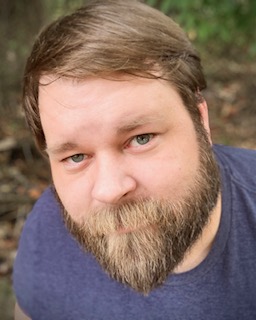 Cris was raised in a small town south of Houston, Texas, and spent the majority of his formative years making radio shows, acting in plays and shooting short films with friends. He started his career at FUNimation in 2008 as an ADR Engineer, but six years later he took the director's seat and hasn't looked back! Here are just a few of his favorite titles he's directed: Black Clover, Pop Team Epic, Death Parade, Ghost In The Shell: Arise, Steins;Gate 0 and Snow White with the Red Hair.
After wrapping the current season of Black Clover, Cris has turned his attention to titles such as Wonder Egg Priority, Listeners and most recently Life Lessons with Uramichi Oniisan!
Since the beginning of his time at FUNimation, Cris has been voice acting in various titles and has been fortunate enough to play over 300 roles! Some of his more notable include: Sato, Death Arms and Gigantomachia in My Hero Academia, Bepo in One Piece, Botamo in Dragon Ball: Super, Lion in Africa Salaryman, Narrator in Black Clover, Tetsuo Takahashi in Interviews with Monster Girls, Robby in RobiHachi, Takeru Noto in Fire Force just to name a few!
In addition to his work at FUNimation, Cris has also been able to branch out and lend his voice to some video games including, Borderlands 2, Trashmouth and Quietfoot in Borderlands 3, Strix in Paladins, and Yakon in Dragon Ball Z: Kakarot.