Triad Anime Con will be held at  the Benton Convention Center(orange square). The convention hotel is located at the Marriott(green square).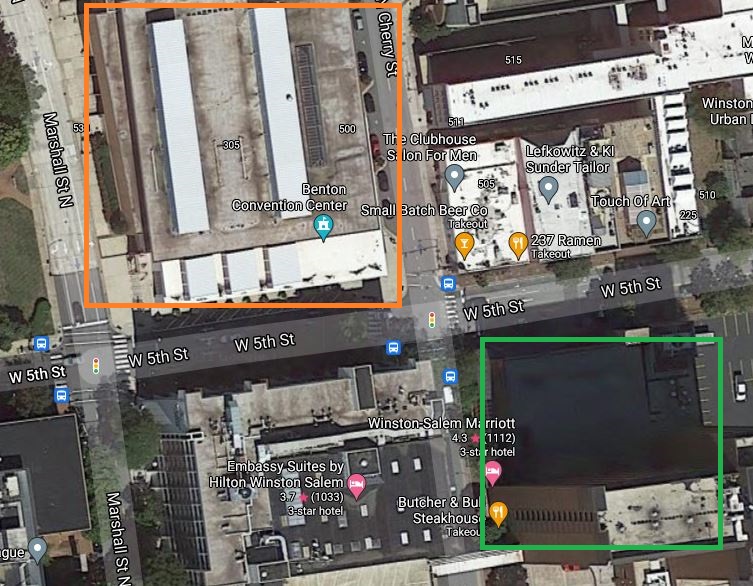 Benton Convention Center
301 W 5th St
Winston-Salem, NC 27101
There is some free parking located next to the Benton Convention Center.
Room block info
Our special room rate is $162 per night plus tax.  Room types are as follows:
-2 Queen beds
-1 King bed
This rate expires on 3/7/2024!
Parking
Hotel guest should park in the Laz Parking Deck which is next to the Embassy or across the street from the Marriott
The cost is as follows: $15.00 per day with in and out privileges and will be billed to your hotel room or
$10.00 per 24 hour period. This cost does not include in and out privileges. Guest pay when the exit the deck.
The Marriott does have Valet parking for hotel guest and the cost is $20.00 per day
If you're commuting to the con, and not staying at the con hotel, the 6th/Cherry-Trade parking deck which is located across from the Benton Convention Center on 5th street would be your best option. There is a skywalk that leads directly to the upper level of the Benton convention center from this parking deck(the con is located on the lower level of the convention center, so just take the escalator down once you enter)
Monday to Friday Daytime parking is $9.00 per week day, after 6pm till 12am the cost is $2.00.
Weekends is $2.00 per day